As the weather gets warmer and the Impatiens start blooming- many people get confused about the difference between regular impatiens and New Guinea Impatiens and where to plant each.
Here is a simple explanation. New Guinea Impatiens are a hybrid and they have been called "sun impatiens" because they tolerate more sun that the standard variety. However, they still do not like full sun all day. New Guineas are generally grown from cuttings and have larger leaves and larger blooms, up to 3 inches across. Their long, narrow leaves come in different shade of green, bronze, purple and some have variegated foliage. New Guineas branch well, are sturdy, and grow taller than standard impatiens. Most are 1 to 2 feet tall.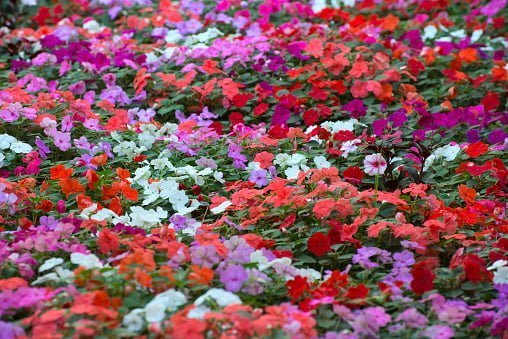 Standard impatiens are easy to grow and are generally smaller than New Guineas. They prefer shady areas and become carpeted mounds of color. They can become leggy over the summer, so it is good to pinch or scissor them back and they will flush back up again in a week or two. From partial shade to full shade, New Guinea Impatiens and standard Impatiens will give you an amazing show all summer long in a huge array of colors. They both love water so keep them moist but not soggy. Use well-drained soil and mulch the top of the soil around the plants to retain moisture. Fertilize often or use a slow-release fertilizer. Enjoy!!